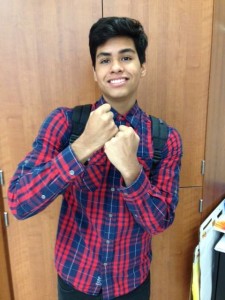 Ivan Diaz, was chosen to be the Los Angeles Unified School District Student of the Day, May 20, 2014. His story is highlighted on the LAUSD Facebook Page.
Sophomore Jannelly Castro qualified through LA City Speech and Debate competitions and has advanced to participate in the State level Competition in Sacramento.
Senior Axel Franco placed 2nd in Performance Art at the Paramount Studios Competition; Spotlight on Success.
Congratulations to Mr. Whetter, our ASL teacher, for being chosen to CSUN's Outstanding Student Teacher this year! Ms. Meyer was his Cooperating Teacher and is to be congratulated as well. We're proud of both of you!
We are proud that one of our teachers, Ms. Kathryn Gullo, has been selected as an LAUSD "Teacher of the Year". She will represent LAUSD and East Valley High in the county competition!